1989 Camaro
In early 1999 I restored a 305 TBI 1989 Camaro RS. After driving it around for a while I decided to do the motor, and then the body.
I had the heads shaved, block milled, and bored it 30 over with 30 over flat top pistons. I put in a mild street cam and installed a Edelbrock intake to help with airflow. I had the TBI throttle body rebuilt, enlarging the inlets, put on a K&N air filter, and installed a custom programmed SuperChip. The transmission was rebuilt with a "Poor Man's Shift Kit" (no springs on the shifters). This car was FAST!
As I like music I installed a custom six speaker 1,200 Watt RMS stereo system, consisting of: Clarion deck with 6-pack CD Changer, an Alpine 11 band graphic equalizer, two 6x9 rear speakers, two 4 inch dashboard speakers, and two 12" Monster sub woofers that were installed in a custom tuned "competition" box that took up the rear trunk area. I installed rear cargo springs to help restore the car's posture.
1988 Camaro
A couple of years later I fixed up a 305 TPI 1988 Camaro IROC. As the layout of the car was the same as my other Camaro I simply moved the stereo over to the new one! My daughter and I loved the car, and would go for drives with the T-tops out in the summer! My daughter and I were sad to part with it.
1971 MGB
Years ago I restored my 1971 MGB. The car was driven daily, and I have needed to perform a second restoration on it since. My daughter loves the car, and so I would really like to finish it one day for her.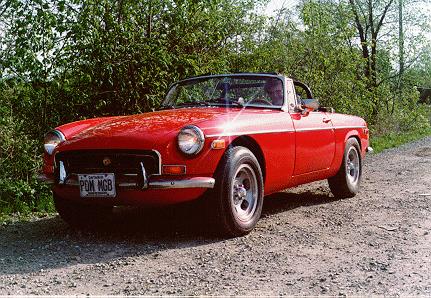 Below is a video of me starting the car after I re-installed the engine.